Sliman Mansour - Banksy, Walled Off Hotel
Sliman Mansour - Banksy, Walled Off Hotel
Suleiman Mansour, geb, 194, ist ein Pionier der modernen palästinensischen Kunst und einer der meisterhaftesten und bedeutendsten arabischen Künstler der Gegenwart. Das vorliegende Werk And the Convoy Keeps Going, das im Rahmen der Walled Off Hot...
mehr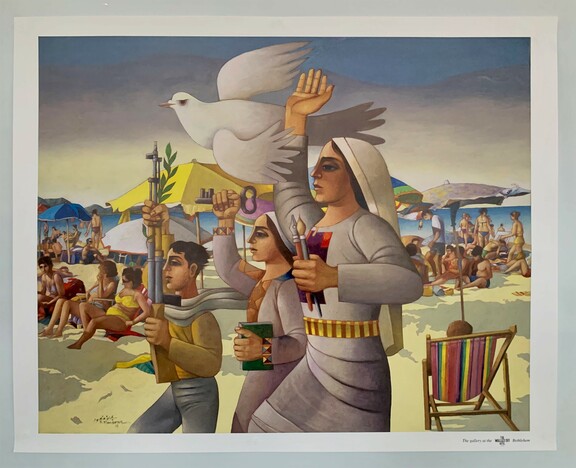 Noch nichts interessantes gefunden?
Hoffentlich finden Sie noch etwas Interessantes in den folgenden zwei scrollbaren Listen. Hier bekommen Sie eine Übersicht über die interessantesten Künstler und Kategorien aus der umfangreichen Kunstsammlung.

Alternativ können Sie jedoch auch das Hauptmenü zum Stöbern durch alle Kategorien sowie Künstler verwenden.
künstler
[#<Artist id: 1, name: "Picasso Pablo", description: "eine d.weltweit größten Plakatesammlungen", born: "1881-10-25", died: "1973-04-08", created_at: "2018-11-24 13:03:48", updated_at: "2019-11-30 18:15:34">, #<Artist id: 2, name: "Chagall Marc", description: "", born: nil, died: nil, created_at: "2018-11-24 13:04:03", updated_at: "2018-11-24 13:04:03">, #<Artist id: 3, name: "Kurtz Arthur", description: "Arthur Kurtz (* 23. September 1860 in Sankt Gallen...", born: "1860-11-09", died: "1917-01-20", created_at: "2018-11-24 13:04:13", updated_at: "2018-11-24 13:40:50">, #<Artist id: 4, name: "Miro Joan", description: "", born: nil, died: nil, created_at: "2018-11-24 13:04:52", updated_at: "2018-11-24 13:04:52">, #<Artist id: 5, name: "Matisse Henri", description: "", born: nil, died: nil, created_at: "2018-11-27 18:31:58", updated_at: "2018-11-27 18:31:58">, #<Artist id: 6, name: "Toulouse Lautrec", description: "Henri Marie Raymond de Toulouse-Lautrec-Monfa (geb...", born: "1864-11-24", died: "1901-09-09", created_at: "2018-11-29 15:17:34", updated_at: "2022-01-04 10:47:05">, #<Artist id: 7, name: "Larionow Michail Fjodorowitsch ", description: "", born: nil, died: nil, created_at: "2018-11-29 23:11:52", updated_at: "2018-11-29 23:11:52">, #<Artist id: 8, name: "Grieshaber HAP", description: "HAP Grieshaber, ursprünglich Helmut Andreas Paul G...", born: "1909-02-16", died: "1981-05-12", created_at: "2018-12-08 22:03:22", updated_at: "2021-12-28 21:25:53">, #<Artist id: 9, name: "Kurtz Camillo", description: "<p data-adtags-visited=\"true\">Kurtz, Camillo (1896...", born: "1896-10-15", died: "1973-09-01", created_at: "2018-12-09 13:43:13", updated_at: "2023-06-06 18:26:53">, #<Artist id: 10, name: "Lichtenstein Roy", description: "", born: nil, died: nil, created_at: "2018-12-09 14:44:36", updated_at: "2018-12-09 14:44:36">, #<Artist id: 11, name: "Beuys Joseph", description: "<p>Joseph Beuys ist ein deutscher K&uuml;nstler un...", born: "1921-05-12", died: "1986-01-23", created_at: "2018-12-17 16:57:45", updated_at: "2023-09-27 11:37:24">, #<Artist id: 12, name: "Rauschenberg Robert", description: "", born: nil, died: nil, created_at: "2018-12-18 11:00:59", updated_at: "2018-12-18 11:00:59">, #<Artist id: 13, name: "Phalle Niki de Saint", description: "", born: nil, died: nil, created_at: "2018-12-18 11:02:46", updated_at: "2018-12-18 11:02:46">, #<Artist id: 14, name: "Leibovitz Annie", description: "", born: nil, died: nil, created_at: "2018-12-18 11:13:57", updated_at: "2018-12-18 11:13:57">, #<Artist id: 16, name: "Vasarely Victor", description: "", born: nil, died: nil, created_at: "2018-12-18 11:22:16", updated_at: "2018-12-18 11:22:16">, #<Artist id: 17, name: "Rainer Arnulf", description: "", born: nil, died: nil, created_at: "2018-12-19 20:52:03", updated_at: "2018-12-19 20:52:03">, #<Artist id: 18, name: "Dali Salvador", description: "", born: nil, died: nil, created_at: "2018-12-19 22:04:10", updated_at: "2018-12-19 22:04:10">, #<Artist id: 19, name: "Bach Elvira", description: "<div id=\"Aufmerksam macht sie auf sich durch ihre ...", born: "1951-06-22", died: nil, created_at: "2018-12-20 13:49:25", updated_at: "2023-09-27 11:00:32">, #<Artist id: 20, name: "Leger Fernand", description: "", born: nil, died: nil, created_at: "2018-12-20 13:52:23", updated_at: "2018-12-20 13:52:23">, #<Artist id: 21, name: "Terechkovitch Constantin", description: "Französisch-russischer Künstler (1902-1978) \r\nKost...", born: "2022-02-19", died: "2022-08-19", created_at: "2018-12-20 15:19:40", updated_at: "2022-01-05 13:37:54">, #<Artist id: 22, name: "Theodorakis Mikis", description: "", born: nil, died: nil, created_at: "2018-12-20 15:45:21", updated_at: "2018-12-20 15:45:21">, #<Artist id: 23, name: "Uecker Günther", description: "", born: nil, died: nil, created_at: "2018-12-20 16:00:46", updated_at: "2018-12-20 16:00:46">, #<Artist id: 24, name: "Diehl Hans Jürgen", description: "Hans-Jürgen Diehl, geb. 1940 in Hanau, lebt heute ...", born: "1940-05-22", died: nil, created_at: "2018-12-20 16:49:12", updated_at: "2021-01-25 15:45:21">, #<Artist id: 25, name: "Dufy Raoul", description: "", born: nil, died: nil, created_at: "2018-12-20 17:09:49", updated_at: "2018-12-20 17:09:49">, #<Artist id: 27, name: "Moore Henry", description: "", born: nil, died: nil, created_at: "2018-12-20 18:02:13", updated_at: "2018-12-20 18:02:13">, #<Artist id: 28, name: "Manolo Huguet", description: "", born: nil, died: nil, created_at: "2018-12-20 18:11:50", updated_at: "2019-01-06 12:18:31">, #<Artist id: 29, name: "Marino Marini", description: "", born: nil, died: nil, created_at: "2018-12-20 18:28:36", updated_at: "2018-12-20 18:28:36">, #<Artist id: 30, name: "Agam Yaakov", description: "<p>Yaccov Agam, geb. am 11. Mai 1928 als Yaacov Gi...", born: "2023-08-19", died: nil, created_at: "2018-12-20 22:03:42", updated_at: "2023-09-26 17:09:47">, #<Artist id: 31, name: "Brood Herman", description: "HERMAN BROOD ( (* 5. November 1946 in Zwolle; † 11...", born: "1948-09-05", died: "2001-07-11", created_at: "2018-12-20 22:32:38", updated_at: "2018-12-20 22:52:05">, #<Artist id: 34, name: "Buffet Bernard", description: "<p>Bernard Buffet wurde am 10. Juli 1928 in Paris ...", born: "1928-07-10", died: "1999-10-04", created_at: "2018-12-20 22:58:12", updated_at: "2023-09-27 12:14:39">, #<Artist id: 35, name: "Berner Bernd", description: "<p>Bernd Berner, geboren am 24. September 1930 in ...", born: "1930-09-24", died: "2002-07-12", created_at: "2018-12-22 09:17:51", updated_at: "2023-09-27 11:35:22">, #<Artist id: 36, name: "Alt Otmar", description: "<p>Otmar Alt, geb. am 17. Juli 1940 in Wernigerode...", born: "1940-07-17", died: nil, created_at: "2018-12-22 09:52:18", updated_at: "2023-09-26 17:32:12">, #<Artist id: 37, name: "Antes Horst", description: "<p>&nbsp;</p>\r\n<p><strong>&nbsp;</strong></p>\r\n<p>...", born: "1936-10-28", died: nil, created_at: "2018-12-22 09:55:05", updated_at: "2023-09-26 17:42:47">, #<Artist id: 38, name: "Adami Valerio", description: "<p>Valerio Adami, ein italoienischer Maler, wurde ...", born: "1935-03-17", died: nil, created_at: "2018-12-22 12:16:03", updated_at: "2023-09-26 17:04:18">, #<Artist id: 39, name: "Dante Alberti Henri", description: "", born: nil, died: nil, created_at: "2018-12-22 12:20:13", updated_at: "2018-12-22 12:20:13">, #<Artist id: 40, name: "Attersee Christian Ludwig", description: "<div class=\"row\">\r\n<div class=\"col-12\">\r\n<div clas...", born: "1940-08-28", died: nil, created_at: "2018-12-22 12:37:42", updated_at: "2023-09-27 10:54:41">, #<Artist id: 41, name: "Apollinaire Guillaume", description: "<figure class=\"author-img\">Guillaume Apollinaire w...", born: "1880-08-26", died: "1918-11-09", created_at: "2018-12-22 13:21:18", updated_at: "2023-09-26 17:48:28">, #<Artist id: 42, name: "Brault René", description: "<h1 id=\"firstHeading\" class=\"firstHeading mw-first...", born: "1930-11-21", died: "1986-12-06", created_at: "2018-12-22 13:33:34", updated_at: "2023-09-27 12:12:32">, #<Artist id: 43, name: "Braque Georges", description: "<p>Georges Braque, geboren am 13.Mai 1882 in Argen...", born: "1882-05-13", died: "1963-08-31", created_at: "2018-12-22 15:17:40", updated_at: "2023-09-27 11:46:22">, #<Artist id: 44, name: "Brauer Arik", description: "<p>Arik Brauer, geboren am 4. J&auml;nner 1929 in ...", born: "1929-01-04", died: "2021-01-24", created_at: "2018-12-22 15:23:08", updated_at: "2023-09-27 12:11:13">, #<Artist id: 45, name: "Bruno Bruni", description: "Bruno Bruni sen. (* 23. November 1935 in Gradara b...", born: "1935-11-23", died: nil, created_at: "2018-12-22 15:44:54", updated_at: "2021-01-23 18:53:16">, #<Artist id: 46, name: "Calder Alexander", description: "<p>Alexander Calder, geboren am 22. Juli 1898 in L...", born: "1898-07-22", died: "1976-11-11", created_at: "2018-12-22 16:11:44", updated_at: "2023-09-27 18:15:26">, #<Artist id: 47, name: "Helnwein Gottfried", description: "", born: nil, died: nil, created_at: "2018-12-22 22:34:07", updated_at: "2018-12-22 22:34:48">, #<Artist id: 48, name: "Christo", description: "Christo (* 13. Juni 1935 in Gabrowo, Bulgarien, al...", born: "1935-06-13", died: nil, created_at: "2018-12-23 13:16:31", updated_at: "2018-12-23 13:16:31">, #<Artist id: 49, name: "Claisse Geneviève ", description: "", born: nil, died: nil, created_at: "2018-12-23 14:04:07", updated_at: "2018-12-23 14:04:07">, #<Artist id: 50, name: "Cocteau Jean", description: "", born: nil, died: nil, created_at: "2018-12-23 14:11:10", updated_at: "2018-12-23 14:11:10">, #<Artist id: 52, name: "Corneille Guillaume ", description: "", born: nil, died: nil, created_at: "2018-12-23 15:58:40", updated_at: "2018-12-23 15:58:40">, #<Artist id: 53, name: "Coutand", description: "", born: nil, died: nil, created_at: "2018-12-23 16:22:15", updated_at: "2018-12-23 16:22:15">, #<Artist id: 54, name: "Hartung Hans", description: "", born: nil, died: nil, created_at: "2018-12-25 23:17:11", updated_at: "2018-12-25 23:17:11">, #<Artist id: 55, name: "Clergue Lucien", description: "", born: nil, died: nil, created_at: "2018-12-26 21:08:02", updated_at: "2018-12-26 21:08:02">, #<Artist id: 56, name: "Ernst Jimmy", description: "Jimmy Ernst (* 24. Juni 1920 in Köln; † 6. Februar...", born: "1920-06-24", died: "1984-02-06", created_at: "2018-12-29 21:54:23", updated_at: "2018-12-29 21:59:56">, #<Artist id: 57, name: "Fuchs Ernst", description: " Ernst Fuchs Ernst Fuchs Professor Ernst Fuchs, g...", born: "1930-02-13", died: "2015-11-09", created_at: "2018-12-29 22:21:00", updated_at: "2021-01-23 18:33:43">, #<Artist id: 58, name: "Grzimek Waldemar", description: "Waldemar Grzimek * 1918 Rastenburg/Ostpreußen ...", born: "1918-12-05", died: "1984-05-26", created_at: "2018-12-29 22:59:37", updated_at: "2018-12-29 23:05:31">, #<Artist id: 59, name: "Guerricchio", description: "", born: nil, died: nil, created_at: "2018-12-29 23:06:28", updated_at: "2018-12-29 23:06:28">, #<Artist id: 60, name: "Haring Keith", description: "", born: nil, died: nil, created_at: "2018-12-29 23:13:43", updated_at: "2018-12-29 23:13:43">, #<Artist id: 61, name: "Hausner Rudolf", description: "Rudolf Hausner Rudolf 1914 Wien - 1995 Mödling\r\nRu...", born: "1914-12-04", died: "1995-02-25", created_at: "2018-12-30 17:26:38", updated_at: "2022-01-06 20:55:13">, #<Artist id: 62, name: "Hrdlicka Alfred", description: "", born: nil, died: nil, created_at: "2018-12-30 18:16:29", updated_at: "2018-12-30 18:16:29">, #<Artist id: 63, name: "Warhol Andy", description: "", born: nil, died: nil, created_at: "2018-12-30 23:13:55", updated_at: "2018-12-30 23:13:55">, #<Artist id: 64, name: "Tremewen Ian", description: "", born: nil, died: nil, created_at: "2019-01-01 16:42:13", updated_at: "2019-01-01 16:42:13">, #<Artist id: 65, name: "Tàpies Antoni ", description: "Antoni Tàpies i Puig (geb. am 13. Dezember 1923 in...", born: "1923-12-13", died: "2012-02-06", created_at: "2019-01-01 17:02:21", updated_at: "2022-01-05 19:11:34">, #<Artist id: 66, name: "Morandi Giorgio ", description: "", born: "1890-02-20", died: "1964-06-18", created_at: "2019-01-01 17:20:35", updated_at: "2019-01-01 17:20:35">, #<Artist id: 67, name: "Newton Helmut", description: "", born: "1920-10-31", died: nil, created_at: "2019-01-01 17:27:47", updated_at: "2019-01-01 17:27:47">, #<Artist id: 68, name: "Aleg On", description: "Aleg On wurde 1962 im kasachischen Almaty (bis 199...", born: nil, died: nil, created_at: "2019-01-05 20:36:24", updated_at: "2019-01-05 20:36:24">, #<Artist id: 69, name: "Opitz", description: "", born: nil, died: nil, created_at: "2019-01-05 21:28:47", updated_at: "2019-01-05 21:28:47">, #<Artist id: 70, name: "Hundertwasser Friedensreich", description: "", born: nil, died: nil, created_at: "2019-01-05 21:41:41", updated_at: "2019-01-05 21:41:41">, #<Artist id: 71, name: "Keilitz Dietmar", description: "", born: nil, died: nil, created_at: "2019-01-05 22:09:13", updated_at: "2019-01-05 22:09:13">, #<Artist id: 72, name: "Klein Yves", description: "", born: nil, died: nil, created_at: "2019-01-05 22:49:43", updated_at: "2019-01-05 22:49:43">, #<Artist id: 73, name: "Kandinsky Wassily", description: "", born: nil, died: nil, created_at: "2019-01-05 22:55:36", updated_at: "2019-01-05 22:55:36">, #<Artist id: 74, name: "Jansen Horst", description: "", born: "1929-11-14", died: "1995-08-31", created_at: "2019-01-05 23:17:34", updated_at: "2021-01-26 20:42:42">, #<Artist id: 75, name: "Kokoschka Oskar", description: "1. März 1886\r\nOskar Kokoschka wird in Pöchlarn an ...", born: "1886-03-01", died: "1980-02-22", created_at: "2019-01-05 23:21:14", updated_at: "2022-01-04 09:09:16">, #<Artist id: 76, name: "Verdet Andre", description: "André Verdet war Dichter, Maler, Bildhauer und Ker...", born: "1913-08-04", died: "2004-12-19", created_at: "2019-01-06 00:31:59", updated_at: "2022-01-04 13:31:28">, #<Artist id: 77, name: "Krabbe", description: "", born: nil, died: nil, created_at: "2019-01-06 11:31:45", updated_at: "2019-01-06 11:31:45">, #<Artist id: 78, name: "Lam Wilfredo", description: "<p>Wifredo Lam &nbsp;(* 2. Dezember 1902 in Sagua ...", born: "1902-12-02", died: "1982-09-11", created_at: "2019-01-06 11:57:15", updated_at: "2023-08-30 11:23:10">, #<Artist id: 79, name: "Maffi Ugo", description: "", born: nil, died: nil, created_at: "2019-01-06 12:03:57", updated_at: "2019-01-06 12:03:57">, #<Artist id: 80, name: "Man Ray", description: "<p>Man Ray (* 27. August 1890 in Philadelphia, Pen...", born: "1890-08-27", died: "1976-11-18", created_at: "2019-01-06 12:10:37", updated_at: "2023-08-30 11:29:58">, #<Artist id: 81, name: "Pankok Otto", description: "Otto Pankok (* 6. Juni 1893 in Mülheim an der Ruhr...", born: "1893-01-06", died: "1966-10-20", created_at: "2019-01-06 15:35:48", updated_at: "2019-01-06 15:43:44">, #<Artist id: 82, name: "Penck A. R.", description: "<p>A. R. Penck (* 5. Oktober 1939 in Dresden; &dag...", born: "2023-07-20", died: "2023-07-20", created_at: "2019-01-06 15:46:37", updated_at: "2023-08-20 21:04:29">, #<Artist id: 83, name: "Poliakoff Serge", description: "Serge Poliakoff wurde am 8. Januar 1900 als dreize...", born: "2019-12-19", died: "2022-09-19", created_at: "2019-01-06 16:07:40", updated_at: "2022-01-03 18:52:15">, #<Artist id: 84, name: "Rizzi James", description: "", born: nil, died: nil, created_at: "2019-01-06 16:26:44", updated_at: "2019-01-06 16:26:44">, #<Artist id: 85, name: "Rotar Robert", description: "Robert Rotar wurde am 24. Juni 1926 in Berlin gebo...", born: "1926-06-24", died: "1999-08-13", created_at: "2019-01-06 17:01:04", updated_at: "2021-01-26 21:01:35">, #<Artist id: 86, name: "Shaw Bob", description: "", born: nil, died: nil, created_at: "2019-01-06 17:04:31", updated_at: "2019-01-06 17:04:31">, #<Artist id: 87, name: "Sokol Erich", description: "", born: nil, died: nil, created_at: "2019-01-06 18:21:19", updated_at: "2019-01-06 18:21:19">, #<Artist id: 88, name: "Uhlig Max", description: "", born: nil, died: nil, created_at: "2019-01-06 18:57:06", updated_at: "2019-01-06 18:57:06">, #<Artist id: 89, name: "Weston", description: "", born: nil, died: nil, created_at: "2019-01-06 19:15:41", updated_at: "2019-01-06 19:15:41">, #<Artist id: 90, name: "Eluard Paul", description: "", born: nil, died: nil, created_at: "2019-01-10 15:23:24", updated_at: "2019-01-10 15:23:24">, #<Artist id: 91, name: "Kurtz Gallenstein Augustin", description: "", born: nil, died: nil, created_at: "2019-01-27 00:34:41", updated_at: "2019-01-27 00:34:41">, #<Artist id: 93, name: "Hutter Wolfgang", description: "", born: nil, died: nil, created_at: "2019-09-13 18:26:46", updated_at: "2019-09-13 18:26:46">, #<Artist id: 94, name: "Delaunay Sonia ", description: "<p>Sonia Delaunay &nbsp;* 14. November 1885 in Gra...", born: "1885-11-14", died: "1979-12-05", created_at: "2020-03-17 16:26:44", updated_at: "2023-08-30 11:37:33">, #<Artist id: 95, name: "Banksy", description: "<p>Banksy, geboren&nbsp; vermutlich 1973 oder 1974...", born: nil, died: nil, created_at: "2020-07-22 21:39:43", updated_at: "2023-09-27 11:07:44">, #<Artist id: 96, name: "Basquiat Jean-Michel ", description: "<p>Jean-Michel Basquiat, geboren am 22. Dezember 1...", born: "1960-12-22", died: "1988-08-12", created_at: "2020-09-15 20:15:12", updated_at: "2023-09-27 11:30:11">, #<Artist id: 97, name: "Katz Alex", description: "", born: nil, died: nil, created_at: "2020-09-30 11:00:42", updated_at: "2020-09-30 11:00:42">, #<Artist id: 98, name: "Soulages Pierre", description: "", born: nil, died: nil, created_at: "2020-10-11 14:19:24", updated_at: "2020-10-11 14:19:24">, #<Artist id: 99, name: "ohne Angabe", description: "", born: nil, died: nil, created_at: "2020-10-15 17:55:20", updated_at: "2020-10-15 17:55:20">, #<Artist id: 100, name: "Gontcharova Natalija Sergejewna ", description: "Malerin, die der russischen Avantgarde zugerechnet...", born: "1881-06-16", died: "1962-10-17", created_at: "2020-11-05 19:02:11", updated_at: "2020-11-05 19:02:11">, #<Artist id: 101, name: "Wunderlich Paul", description: "Paul Wunderlich wurde am 10. März 1927 in Eberswal...", born: nil, died: "2020-11-06", created_at: "2020-11-22 18:58:22", updated_at: "2020-11-22 18:58:22">, #<Artist id: 102, name: "Hergé - Georges Prosper Remi", description: "Georges Prosper Remi[1][2] alias Hergé (Aussprache...", born: "1907-05-22", died: "1983-03-03", created_at: "2020-12-11 21:09:55", updated_at: "2020-12-11 21:34:37">, #<Artist id: 104, name: "Childish Billy", description: "<p>Billy Childish (eigentlich William Charlie Hamp...", born: "1959-12-01", died: nil, created_at: "2021-01-04 18:46:00", updated_at: "2023-09-27 18:17:33">, #<Artist id: 105, name: "Thanhäuser Christian", description: "", born: nil, died: nil, created_at: "2021-01-15 10:37:51", updated_at: "2021-01-15 10:37:51">, #<Artist id: 106, name: "Combas Robert", description: "Robert Combas\r\n\r\nDer französische Maler und Bildha...", born: "1957-05-25", died: nil, created_at: "2021-01-16 22:02:49", updated_at: "2021-12-28 21:11:46">, #<Artist id: 107, name: "Winter Fritz", description: "Fritz Winter, geboren am 22. September 1905 in Al...", born: "1905-09-22", died: "1976-10-01", created_at: "2021-01-24 18:52:37", updated_at: "2021-01-24 18:55:01">, #<Artist id: 108, name: "Eemans Marc", description: "Marc Eemans (Dendermonde 1907 - Brüssel 1998) war ...", born: "1907-01-16", died: "1998-07-28", created_at: "2021-01-26 20:26:04", updated_at: "2021-01-26 20:26:04">, #<Artist id: 109, name: "Kassak Lajos", description: "Lajos Kassák (* 21. März 1887 in Érsekújvár, Öster...", born: "1887-03-21", died: "1967-07-22", created_at: "2021-01-30 18:02:58", updated_at: "2021-01-30 18:02:58">, #<Artist id: 110, name: "Guinovart Josep", description: "Josep Guinovart i Bertran (* 20. März 1927 in Barc...", born: "1927-03-20", died: "2007-12-12", created_at: "2021-01-30 18:05:14", updated_at: "2021-01-30 18:05:14">, #<Artist id: 111, name: "Max Bill", description: "Max Bill war ein Schweizer Architekt, vielseitiger...", born: "1908-12-22", died: "1994-12-09", created_at: "2021-01-31 19:55:12", updated_at: "2021-01-31 19:55:12">, #<Artist id: 112, name: "Claassen Johan", description: "Johan Claassen ist in erster Linie ein Objektkünst...", born: nil, died: nil, created_at: "2021-01-31 20:19:10", updated_at: "2021-01-31 20:19:10">, #<Artist id: 114, name: "Wagner G.I.F.", description: "", born: nil, died: nil, created_at: "2021-01-31 20:37:24", updated_at: "2021-01-31 20:37:24">, #<Artist id: 115, name: "Keeler Roebuck Lucile", description: " Lucile M Keeler ehemals Roebuck Geboren am 16. Ap...", born: "1902-04-16", died: "1996-06-04", created_at: "2021-02-01 19:05:36", updated_at: "2021-02-01 19:05:36">, #<Artist id: 116, name: "De Maria, Nicola", description: "De Maria ist 1954 in Foglianise in Kampanien gebor...", born: "2022-04-19", died: nil, created_at: "2021-02-02 19:08:28", updated_at: "2022-01-05 13:51:12">, #<Artist id: 117, name: "Morandini Marcello ", description: "Marcello Morandini (* 15. Mai 1940 in Mantua) ist ...", born: "1940-05-15", died: nil, created_at: "2021-02-02 19:15:32", updated_at: "2021-02-02 19:15:32">, #<Artist id: 118, name: "Scully Jean", description: "Sean Scully (* 30. Juni 1945 in Dublin, Irland) is...", born: "1945-06-30", died: nil, created_at: "2021-02-06 18:41:57", updated_at: "2021-02-06 18:41:57">, #<Artist id: 119, name: "Bill Max", description: "Max Bill (* 22. Dezember 1908 in Winterthur; † 9. ...", born: "1908-12-22", died: "1994-12-09", created_at: "2021-02-15 15:30:00", updated_at: "2021-02-15 15:45:26">, #<Artist id: 121, name: "Leherb Helmut (Leherbauer)", description: "Leherb, auch Maître Leherb (* 14. März 1933 in Wie...", born: "1933-03-14", died: "1997-06-28", created_at: "2021-02-28 18:16:45", updated_at: "2021-02-28 18:16:45">, #<Artist id: 122, name: "Nitsch Hermann", description: "Hermann Nitsch (* 29. August 1938 in Wien) ist ein...", born: "2021-08-19", died: nil, created_at: "2021-12-28 15:42:34", updated_at: "2021-12-28 15:44:38">, #<Artist id: 123, name: "Alchechinsky Pierre", description: "\r\ngeboren am19. Oktober 1927 in Brüssel), ist ein ...", born: "1927-10-19", died: nil, created_at: "2021-12-28 16:15:03", updated_at: "2021-12-28 16:15:03">, #<Artist id: 124, name: " Roebuck Keeler Lucile", description: "<p>Lucile Roebuck</p>\r\n<p>Die amerikanische K&uuml...", born: "1902-04-16", died: "1996-06-04", created_at: "2021-12-30 00:04:35", updated_at: "2023-09-26 16:56:36">, #<Artist id: 125, name: "Beyerle Burkhart", description: "Burkhart Beyerle (* 4. Juni 1930 in Frankfurt am M...", born: "1930-06-04", died: "2021-12-13", created_at: "2021-12-30 00:37:53", updated_at: "2021-12-30 00:53:51">, #<Artist id: 126, name: "Colin Paul", description: "Paul Colin (geb. 27. Juni 1892 in Nancy; verst. 1...", born: "1892-06-27", died: "1985-06-18", created_at: "2022-01-01 21:13:40", updated_at: "2022-01-01 21:13:40">, #<Artist id: 127, name: "Hirst Damien", description: "Damien Hirst wurde am 7. Juni 1965 als Sohn eines ...", born: "1965-06-07", died: nil, created_at: "2022-01-01 21:30:48", updated_at: "2022-01-01 21:30:48">, #<Artist id: 128, name: "Indiana Robert", description: "Robert Indiana (* 13. September 1928 in New Castle...", born: "1928-09-13", died: "2018-05-19", created_at: "2022-01-03 16:43:34", updated_at: "2022-01-03 16:43:34">, #<Artist id: 129, name: "Jakob Max", description: "<p>Max Jacob (auch: Jakob; geb. 12. Juli 1876 in Q...", born: "1876-07-12", died: "1944-03-05", created_at: "2022-01-03 16:55:14", updated_at: "2023-09-26 17:50:33">, #<Artist id: 130, name: "Diem Eduard", description: "17.05.2019\r\nEudard Diem, geb, 1929, wird von der ...", born: nil, died: nil, created_at: "2022-01-03 21:23:01", updated_at: "2022-01-03 21:23:01">, #<Artist id: 131, name: "Ottograph", description: "Lebenslauf\r\n\r\n1943\r\ngeboren in Uznach \r\naufgewachs...", born: nil, died: nil, created_at: "2022-01-03 23:27:43", updated_at: "2022-01-03 23:27:43">, #<Artist id: 132, name: "Davie James Alan", description: "Der schottische Maler und Musiker James Alan Davie...", born: "1920-09-28", died: "2014-04-05", created_at: "2022-01-04 08:34:44", updated_at: "2022-01-04 08:34:44">, #<Artist id: 133, name: "Wesselmann Tom", description: "Als amerikanischer Pop-Art-Künstler wurde Tom Wess...", born: "1931-02-23", died: "2004-12-17", created_at: "2022-01-04 08:47:02", updated_at: "2022-01-04 08:47:02">, #<Artist id: 134, name: "Phillips Peter Robin", description: "(geb. am 15. November 1977 in London-Paddington) i...", born: "2022-07-19", died: nil, created_at: "2022-01-04 09:20:43", updated_at: "2022-01-04 09:24:57">, #<Artist id: 135, name: "Brooks Kitaj Ronald", description: "Ronald Brooks Kitaj RA (* 29. Oktober 1932 in Chag...", born: "1932-10-29", died: "2007-10-21", created_at: "2022-01-04 09:49:14", updated_at: "2022-01-04 09:49:14">, #<Artist id: 136, name: "Roland Garros Plakate ", description: "", born: nil, died: nil, created_at: "2022-01-06 19:24:29", updated_at: "2022-01-06 19:24:29">, #<Artist id: 137, name: "Hourani Khaled x Banksy", description: "Khaled Hourani (geb. 1965 in Hebron) ist ein paläs...", born: nil, died: nil, created_at: "2022-01-06 20:25:32", updated_at: "2022-01-06 20:25:32">, #<Artist id: 138, name: "Sliman Mansour - Banksy, Walled Off Hotel ", description: "Suleiman Mansour, geb, 194, ist ein Pionier der m...", born: nil, died: nil, created_at: "2022-01-06 20:37:08", updated_at: "2022-01-06 20:37:08">, #<Artist id: 139, name: "Nuutajärvi ", description: "", born: nil, died: nil, created_at: "2022-01-06 21:07:36", updated_at: "2022-01-06 21:08:09">, #<Artist id: 140, name: "Johns Jasper", description: "Johns (Jahrgang 1930) wurde in Augusta, Georgia, g...", born: "1930-05-15", died: nil, created_at: "2022-01-06 21:21:17", updated_at: "2022-01-06 21:26:46">, #<Artist id: 141, name: "Fougeron Andre", description: "\r\nFranzösischer Maler, geboren in Paris. Er stammt...", born: "1913-10-01", died: "1998-09-10", created_at: "2022-01-12 11:06:01", updated_at: "2022-01-12 11:06:01">, #<Artist id: 142, name: "Unger William", description: "William Unger, auch Wilhelm Unger (geb. am11. Sept...", born: "2022-02-20", died: "2022-02-20", created_at: "2022-01-14 20:37:43", updated_at: "2022-01-14 20:46:36">, #<Artist id: 143, name: " Il+larionov Mikhail", description: "", born: nil, died: nil, created_at: "2022-01-17 15:31:34", updated_at: "2022-01-17 15:31:34">, #<Artist id: 145, name: "Moreau Georges", description: "Georges MOREAU\r\n\r\nNach Abschluss seines Studiums d...", born: "1968-04-09", died: nil, created_at: "2022-01-20 00:44:49", updated_at: "2022-01-20 00:48:22">, #<Artist id: 146, name: "Mac Donald, Susannah", description: "Mac Donald, Susannah\r\n Susannah MacDonald, geboren...", born: nil, died: nil, created_at: "2022-01-31 21:55:47", updated_at: "2022-01-31 21:55:47">, #<Artist id: 147, name: "Kees van Dongen", description: "<p>Kees (Cornelis) Theodorus Marie van Dongen wurd...", born: "1877-01-26", died: "1968-05-28", created_at: "2022-04-12 18:31:11", updated_at: "2022-04-12 18:31:11">, #<Artist id: 148, name: "Shepard Fairey", description: "", born: nil, died: nil, created_at: "2022-08-02 21:28:00", updated_at: "2022-08-02 21:28:00">, #<Artist id: 149, name: "Hohlwein Ludwig", description: "", born: "1874-07-27", died: "1949-09-15", created_at: "2022-08-20 15:34:20", updated_at: "2022-08-20 15:34:20">, #<Artist id: 150, name: "Kügler", description: "", born: nil, died: nil, created_at: "2022-08-20 17:28:22", updated_at: "2022-08-20 17:28:22">, #<Artist id: 151, name: "Amer Shomali ", description: "<p>Amer Shomali, geb 1981 in Kuwait ist ein pal&au...", born: nil, died: nil, created_at: "2022-08-21 14:42:17", updated_at: "2023-09-26 17:35:57">, #<Artist id: 152, name: "unbekannt", description: "", born: nil, died: nil, created_at: "2022-08-21 17:53:49", updated_at: "2022-08-21 17:53:49">, #<Artist id: 153, name: "Dubuffet Jean", description: "<p>Jean Philippe Arthur Dubuffet, geb, 1901 in Le ...", born: "1901-07-31", died: "1985-05-12", created_at: "2022-08-21 20:17:17", updated_at: "2022-08-21 20:17:17">, #<Artist id: 154, name: "Ares Aristides Hernandez ", description: "<p>kubanischer K&uuml;nstler</p>\r\n<p>Aristides Est...", born: nil, died: nil, created_at: "2022-09-09 16:14:27", updated_at: "2022-09-09 16:27:56">, #<Artist id: 155, name: "Helge Schneider", description: "<p><strong>Helge Schneider</strong> (* <a title=\"3...", born: "2022-05-19", died: nil, created_at: "2022-09-09 18:00:33", updated_at: "2022-09-09 18:15:40">, #<Artist id: 156, name: "Czoernig Herta", description: "<p>* 13. M&auml;rz 1886 Klagenfurt, &dagger; 14. O...", born: "1886-03-13", died: "1970-10-14", created_at: "2022-09-22 13:19:28", updated_at: "2022-09-22 13:19:28">, #<Artist id: 157, name: "Paolo Boni", description: "<p><span class=\"subheadline h4 light \">(Italian, 1...", born: nil, died: nil, created_at: "2023-02-02 16:12:40", updated_at: "2023-02-02 16:12:40">, #<Artist id: 158, name: "Buttinger Andreas - \"Caspar\"", description: "<p>Andreas Buttinger-Caspar, geboren 1963 in Linz ...", born: nil, died: nil, created_at: "2023-03-27 14:24:05", updated_at: "2023-09-27 12:20:27">, #<Artist id: 159, name: "Chillida Eduardo", description: "<p>Eduardo Chillida Juantegui, geboren am 10. J&au...", born: "1924-01-10", died: "2002-08-19", created_at: "2023-07-26 17:23:50", updated_at: "2023-09-27 18:21:23">, #<Artist id: 160, name: "Monori Jacques", description: "", born: nil, died: nil, created_at: "2023-07-27 15:14:33", updated_at: "2023-07-27 15:14:33">, #<Artist id: 161, name: "Lennon, John", description: "", born: "1940-10-09", died: "1980-12-08", created_at: "2023-08-01 15:51:46", updated_at: "2023-08-01 15:51:46">, #<Artist id: 162, name: "APPLE - Think different", description: "", born: nil, died: nil, created_at: "2023-08-01 17:10:31", updated_at: "2023-08-01 17:10:31">, #<Artist id: 163, name: "Staudinger Karl", description: "<p><strong>Karl Staudinger</strong> (* 30. M&auml;...", born: "1874-03-30", died: "1962-11-29", created_at: "2023-08-12 15:38:26", updated_at: "2023-08-12 15:38:26">]
sammlung
[#<Category id: 1, title: "Plakate Affichomanie II", description: "<p>Originalplakate - Posters, Affiches, Estampes</...", created_at: "2018-11-24 13:05:03", updated_at: "2023-08-22 21:16:05">, #<Category id: 2, title: "Gemälde", description: "", created_at: "2018-11-24 13:05:11", updated_at: "2018-11-24 13:05:11">, #<Category id: 3, title: "Bücher", description: "", created_at: "2018-11-24 13:05:25", updated_at: "2018-11-24 13:05:25">, #<Category id: 4, title: "Zeichnungen", description: "", created_at: "2018-11-24 13:23:27", updated_at: "2018-11-24 13:23:27">, #<Category id: 6, title: "Aquarell", description: "", created_at: "2018-11-24 13:25:14", updated_at: "2018-11-24 13:25:14">, #<Category id: 7, title: "Büchlein, Zeitschriften, Magazine", description: "", created_at: "2018-11-24 14:28:04", updated_at: "2019-01-25 18:51:54">, #<Category id: 8, title: "Plakate-Textplakate", description: "", created_at: "2018-11-26 15:46:57", updated_at: "2018-11-26 15:46:57">, #<Category id: 9, title: "Lithographie", description: "", created_at: "2018-11-29 15:10:11", updated_at: "2019-09-23 18:08:03">, #<Category id: 10, title: "Radierung", description: "", created_at: "2018-12-02 11:58:08", updated_at: "2018-12-02 11:58:08">, #<Category id: 11, title: "Programmhefte", description: "", created_at: "2018-12-05 18:24:39", updated_at: "2018-12-05 18:24:39">, #<Category id: 12, title: "Ausstellungskataloge", description: "", created_at: "2018-12-05 21:18:35", updated_at: "2018-12-05 21:18:35">, #<Category id: 13, title: "Zeitungen", description: "", created_at: "2018-12-10 19:03:20", updated_at: "2018-12-10 19:03:20">, #<Category id: 15, title: "Serigraphie", description: "", created_at: "2018-12-18 21:24:03", updated_at: "2018-12-18 21:24:03">, #<Category id: 18, title: "Einladungs- Eintritts-, Ausweiskarten", description: "", created_at: "2018-12-26 00:06:09", updated_at: "2018-12-26 00:06:09">, #<Category id: 19, title: "Originalfotografien", description: "Original-, Pressefotografien", created_at: "2018-12-26 07:52:10", updated_at: "2019-05-16 15:21:19">, #<Category id: 20, title: "Holzschnitt", description: "", created_at: "2018-12-29 22:49:14", updated_at: "2018-12-29 22:49:14">, #<Category id: 21, title: "Skulptur", description: "", created_at: "2018-12-30 18:44:46", updated_at: "2018-12-30 18:44:46">, #<Category id: 22, title: "Aquagravur", description: "Die Aquagravur ist ein drucktechnisches Verfahren,...", created_at: "2019-01-05 21:36:50", updated_at: "2019-01-05 21:36:50">, #<Category id: 23, title: "Tempera", description: "", created_at: "2019-01-05 22:10:28", updated_at: "2019-01-05 22:10:28">, #<Category id: 25, title: "Notenhefte", description: "", created_at: "2019-01-18 17:45:44", updated_at: "2019-01-18 17:45:44">, #<Category id: 26, title: "Keramik", description: "<p><span class=\"ILfuVd\" lang=\"de\"><span class=\"hgK...", created_at: "2019-01-30 17:25:21", updated_at: "2023-09-16 20:24:28">, #<Category id: 27, title: "Werkverzeichnis", description: "", created_at: "2019-01-31 17:50:32", updated_at: "2019-01-31 17:50:32">, #<Category id: 29, title: "Kalender", description: "", created_at: "2019-02-15 22:49:03", updated_at: "2019-02-15 22:49:03">, #<Category id: 30, title: "Multiple", description: "", created_at: "2019-02-20 17:38:40", updated_at: "2019-02-20 17:38:40">, #<Category id: 31, title: "Briefmarken", description: "", created_at: "2019-03-09 20:51:31", updated_at: "2019-03-09 20:51:31">, #<Category id: 32, title: "Foulards", description: "", created_at: "2019-03-14 10:31:57", updated_at: "2019-03-14 10:31:57">, #<Category id: 33, title: "Exlibris", description: "Ex Libris" – Aus Büchern, kurz "Exlibris" – lautet...", created_at: "2019-05-12 20:06:49", updated_at: "2019-05-12 20:12:27">, #<Category id: 35, title: "Klischeedruck", description: "", created_at: "2019-09-12 18:46:03", updated_at: "2019-09-12 18:46:03">, #<Category id: 36, title: "Postkarten", description: "", created_at: "2020-01-13 21:59:27", updated_at: "2020-01-13 21:59:27">, #<Category id: 37, title: "Zuordnungen - verschiedenes", description: "", created_at: "2020-10-15 17:23:18", updated_at: "2020-10-15 17:23:18">, #<Category id: 38, title: "Holzschnitt", description: "", created_at: "2021-01-31 20:26:23", updated_at: "2021-01-31 20:26:23">, #<Category id: 44, title: "Plakate diverse", description: "", created_at: "2022-08-21 17:48:23", updated_at: "2022-08-21 17:48:23">, #<Category id: 45, title: "Plakate diverse", description: "", created_at: "2022-08-21 17:48:50", updated_at: "2022-08-21 17:48:50">, #<Category id: 46, title: "Plakate diverse", description: "", created_at: "2022-08-21 17:49:31", updated_at: "2022-08-21 17:49:31">, #<Category id: 47, title: "Buchdruck", description: "", created_at: "2022-09-05 15:34:31", updated_at: "2022-09-05 15:34:31">, #<Category id: 48, title: "Buchdruck", description: "", created_at: "2022-09-05 15:34:45", updated_at: "2022-09-05 15:34:45">, #<Category id: 49, title: "Buchseite", description: "", created_at: "2022-09-11 12:27:43", updated_at: "2022-09-11 12:27:43">]